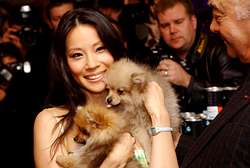 I loved her in Ally McBeal,  Charlie's Angels and Elementary. Now, I love her even more, as Lucy Liu announces her new company, Le Roar, making very stylish, ideal pet accessories for dog parents. She and Elementary Costume Designer, Ellen Stockbridge,  have partnered to create safe, non-toxic goods for pets!
Both Liu and Stockbridge had trouble finding products with totally safe materials on the market for their dogs. They got to talking and realized they had something to offer. "The mission of Le Roar is to keep your pets happy, safe and healthy," explained Liu. "We know pets like to lick and chew, so all zippers are lead-free and outer fabrics are 100% cotton. We source, cut, sew and assemble all of our goods entirely in the USA."
Both women were also dismayed that some dog products that cost hundreds of dollars didn't last very long, being easily ripped, chewed or shredded. They made sure Le Roar items were made with the most high-quality materials and every product is machine washable. Their line includes beds, towels, aprons, and chew toys.
And, the reaction has already been phenomenal! BarneysNewYork.com will premiere the brand's Le Bed and Le Towel this Fall, and O magazine featured their towels in the October Pet Gift Guide. In addition to Le Bed, and Le Towel,  Le Roar also makes Le Squeaky Toy and Le Apron for us.
Le Bed comes in three sizes, so will fit most dogs, and is made with an outer layer of 100 percent cotton canvas. The inserts are a water resistant Supplex, and the inside is stuffed with a high-loft Poly-fil.
Le Towel comes in two designs – Le Logo Towel and Le Silhouette Towel, and are perfect for bath time, drying off on rainy days or make a great travel item, because it's better to be safe than sorry.
Le Squeaky Toy is a tough toy, made from a strong cotton outer layer and a tough dog poly lining.
Le Apron is great for bathing or grooming or even making meals in the kitchen. they're made from 100% cotton and are machine washable.
All are made in the USA from high-quality materials and range in price from $12 – $155. Shop Le Roar.
"From our hearts to your homes, we've created goods for you and your furry family members that are made with the same level of quality we expect for ourselves." Lucy Liu
Would you buy your dog something from Le Roar?