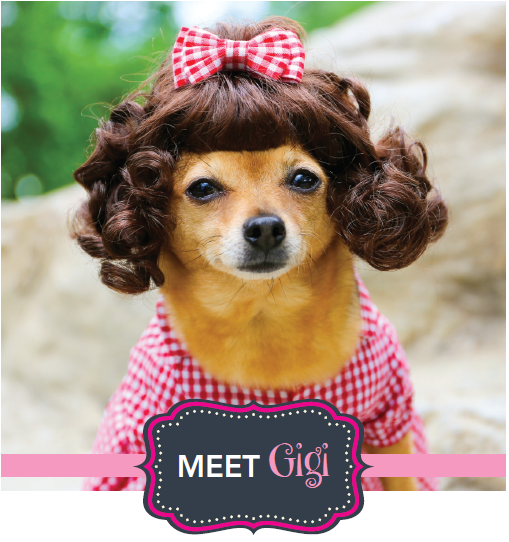 She poses with a sense of purpose. Gigi, of @GigglesbyGigi, is the newest dog fashion model and a rising star on the doggy scene. A plains girl (Montana born and bred), with anything but plain sensibilities (ok, couldn't resist that one), Gigi resides in that sweet spot between fashion plate and fierce protector (more on that, later). Yes, the glamorous little Chihuahua has a closet full of adorable clothing and accessories. Yes, she literally waits by her dressing table for mom each morning, so she can…get dressed, of course! And yes, Gigi turns heads wherever she goes, with neighbors expectantly awaiting her outfit of the day. If you're rolling your eyes right now, you don't know Gigi. Think Elle from Legally Blonde; a smart, sunny and sassy girl, who just happens to love dressing up. And, happens to be a blonde, of course. But, remember who got it all at the end of that movie? OK, then…
Stick around for our fun giveaway at the end!
Gigi's harrowing back story
Gigi packs a powerful punch into her all of 6.5 lbs. Rescued five years ago by mom and luxury pet care expert, Shannon Heggem, she has scary memories of her early life. She'd been rescued once before, by a cable guy, who was blindsided into taking this innocent puppy from a woman threatening to shoot it out back. Shortly thereafter, Gigi found herself the by-product of a divorce. When Shannon came to meet Gigi, she'd already escaped her previous home once, and was found running down the middle of a dark highway. Suffice it to say, Gigi was afraid of everything.
Her introduction to a life of luxury; Mom's story
Gigi couldn't have been guided into more perfect hands than that of Shannon's, for many reasons. As her friend, I know Shannon to be kind, considerate, giving and a huge lover of animals. Her history has given her a unique perspective on day-to-day living and how to do it well.
Shannon was a pioneer in the pet industry. In 1992, she launched one of, if not the first, luxury pet suite facilities, a concept totally unheard of back then. This kind of highly designed, customized boarding facility, was really more like a hotel. Each suite was decorated in its own theme – the Diva Dog Den and the Pooch Pirate Pad, complete with a treasure map on the wall, were a couple.  Dogs had tv. The spaces were spectacular. And, these weren't in New York or L.A., the first was in the middle of Montana. What made Shannon think this was a concept that could fly in cowboy territory?  "I knew that the need was there for a facility to take care of people's dogs like I took care of my own," she told me. "My dogs have always been pampered, and I just had a feeling I probably wasn't the only one."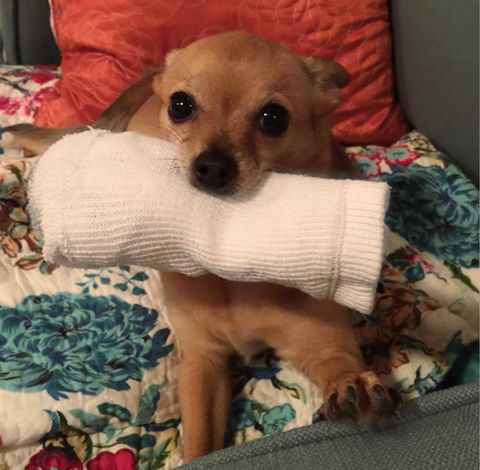 Well, it did fly and became a very successful business. Shannon became the go-to expert in luxury pet care. She designed high end boarding facilities on four continents, with her work being featured in magazines and on tv, ultimately creating customized spaces for well-to-do customers for their dogs. These are amazing and how I first met Shannon. Her company, Luxury Unleashed, has designed rooms for several bold-faced names, who want to honor their best friends with a space that showcases their personality.
With Shannon being the ultimate luxury pet lifestyle designer, what is Gigi's room like? Imagine having a beautiful space for everything – your dresses, jewelry, purses, hats and scarves. Oh, and wigs. Yes, that's right. Wigs. Gigi, ever the fun girl, likes to experiment hopping into different personas every now and then. And, if you think I mean Shannon, I don't. "Gigi is such a little fashionista," Heggem exclaimed. "She loves dressing up, and I love fashion, so I created a space to showcase that for her." And, you can see it on her little face. OK, so back to those wigs. She has 155 of them. Yep.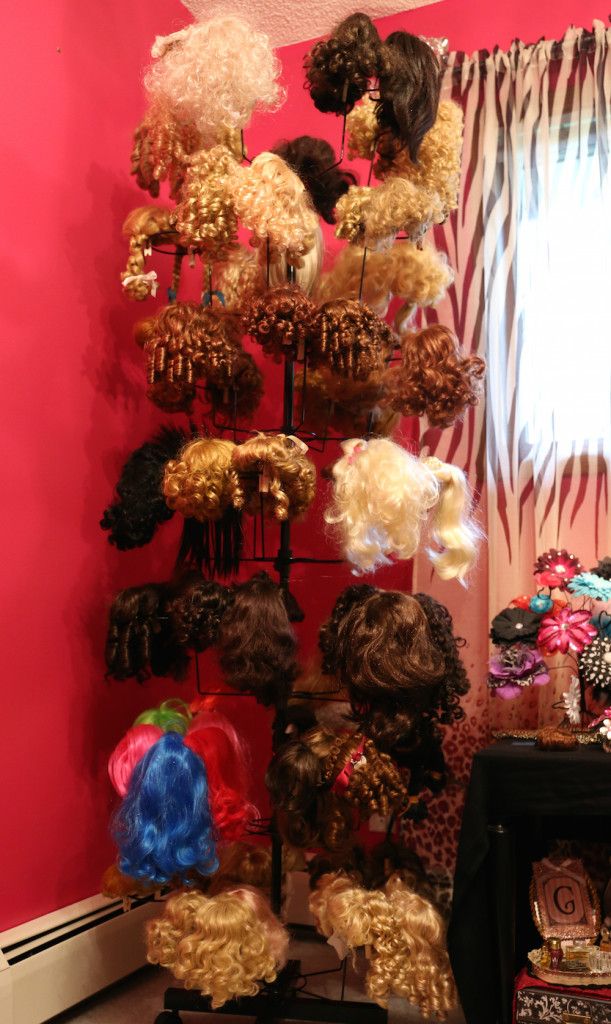 Gigi showcases some in her newest venture, a deliciously fun calendar called, Giggles by Gigi 2016 Calendar for Dog Lovers, that marries fabulous photos with sensible, pet parenting tips from Gigi, herself. It is this combination of concern for the care of dogs with a lighthearted approach to fashion that allows both Shannon and Gigi to do what they love. And, it is a partnership, as Shannon describes it.
Remember when I mentioned that Gigi was a fierce protector? Gigi, completely on her own, showed Shannon early on that she could detect when Shannon's blood sugar was too low. Shannon was diagnosed in high school with hypoglycemia, and when her blood sugar drops, it can be dangerous for her. As a puppy, Gigi started waking Shannon up at night. After trying walking her, feeding her and making sure she was ok, Shannon couldn't figure out what it was. Then, it dawned on her. At that point in the night, her blood sugar tends to drop, and maybe Gigi was alerting her to it. We've heard how dogs can sense everything from when a seizure is about to occur in their owners to whether someone has cancer.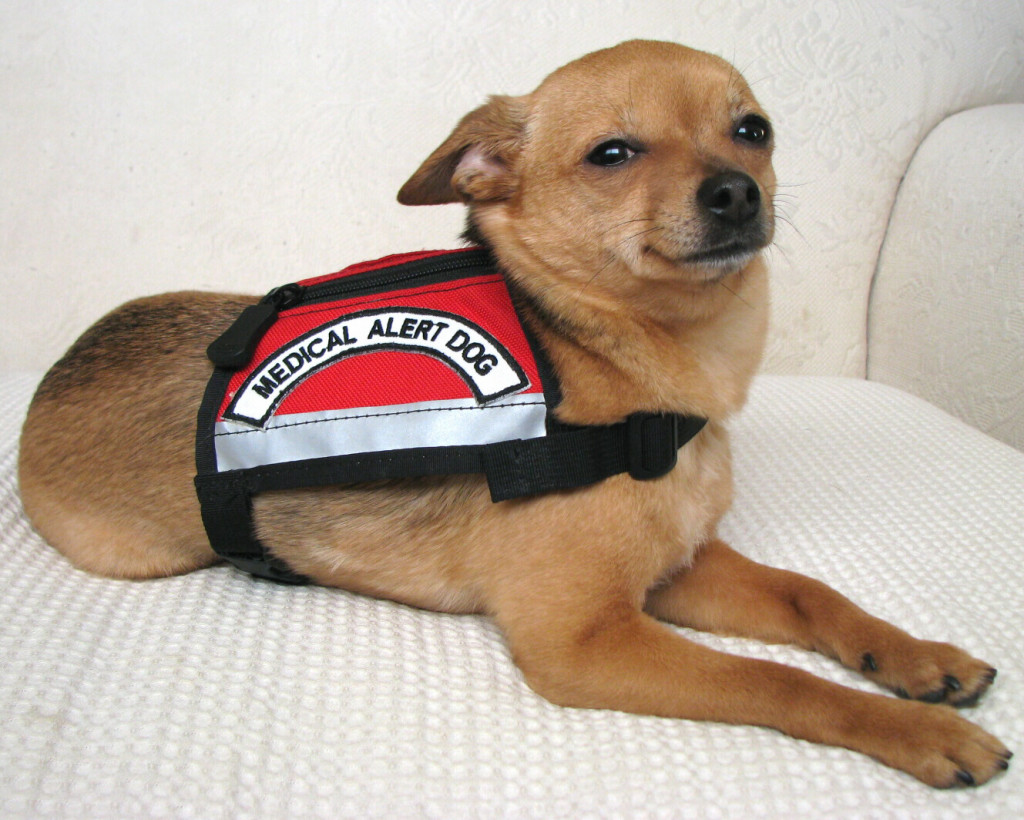 So, Shannon and her husband decided to get Gigi tested to see if her hunch had merit. It turned out that Gigi could tell by licking Shannon's skin, that her blood sugar was dangerously low. This kind of connection between them has developed into an unbreakable bond. Gigi is Shannon's world and vice versa. Her alerts now come without having to lick Shannon. Subtle changes in Shannon's behavior are enough now to show Gigi that Shannon needs to eat. Gigi is a service dog today. "I don't feel like I'm a parent to Gigi, I feel like we're partners," Shannon shared. "We take care of each other." Pretty amazing stuff, right?
Gigi's stylish, colorful new calendar and our Giveaway!!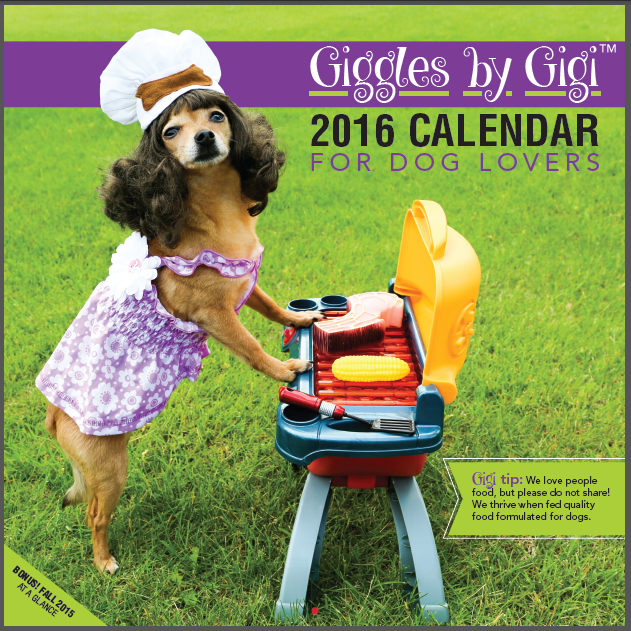 This calendar is so much fun, and knowing what you now know, if you love fashion and dogs, its the perfect holiday gift for another stylish dog lover or…yourself! We're giving away 5 of them to Bark & Swagger family members. It's super easy to enter. Just join the Bark & Swagger email list to get the freshest news first, follow us and @GigglesbyGigi on Instagram. That's it! The giveaway begins at 10pm EST on Tuesday, September 15 and ends at 11:59pm EST on Monday, September 21. Good luck!
And, stay tuned for news on Gigi's upcoming book; you won't believe the clever, creative costumes Gigi will reveal, as well as the sage advice from a girl who's been through it all and come out an empowered pup!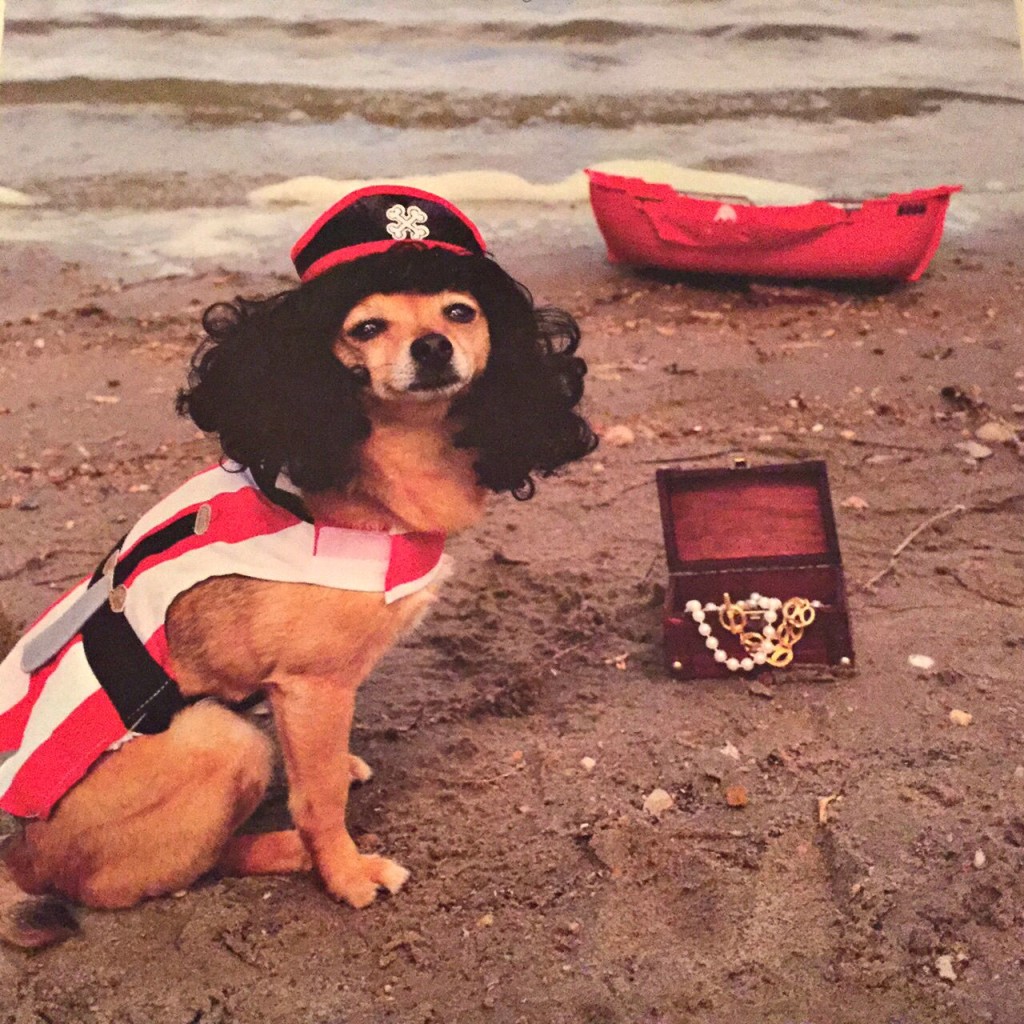 A fun behind-the-scenes story during the calendar shoot?
"When we shot the photo of her on the beach – the pirate scene for October – one thing people don't realize about Gigi is her wigs aren't attached; she actually balances them on her head," Shannon revealed.  "During that shoot, it was pretty  windy, and her wig kept blowing off. She sat there, like the consummate professional she is, but would keep looking at me like, 'Really? Can't you do something about this? You're not taking my picture without my wig on, are you?'  It was a real wardrobe malfunction!"
If you doubt, for one moment, the loving bond between these two, read this.
Now, check out this adorable video!

This calendar is becoming a hot item, making its way around the globe. It's been purchased by dog lovers in Russia, Canada, Australia, New Zealand and Singapore. So, enter the giveaway for yours free!
You can learn more about Gigi and purchase a calendar here.
Follow Gigi on Instagram.
Follow her on Facebook.
Follow her on Twitter.
Do you think dogs can love dressing up and strutting their stuff?  Tell me your stories!