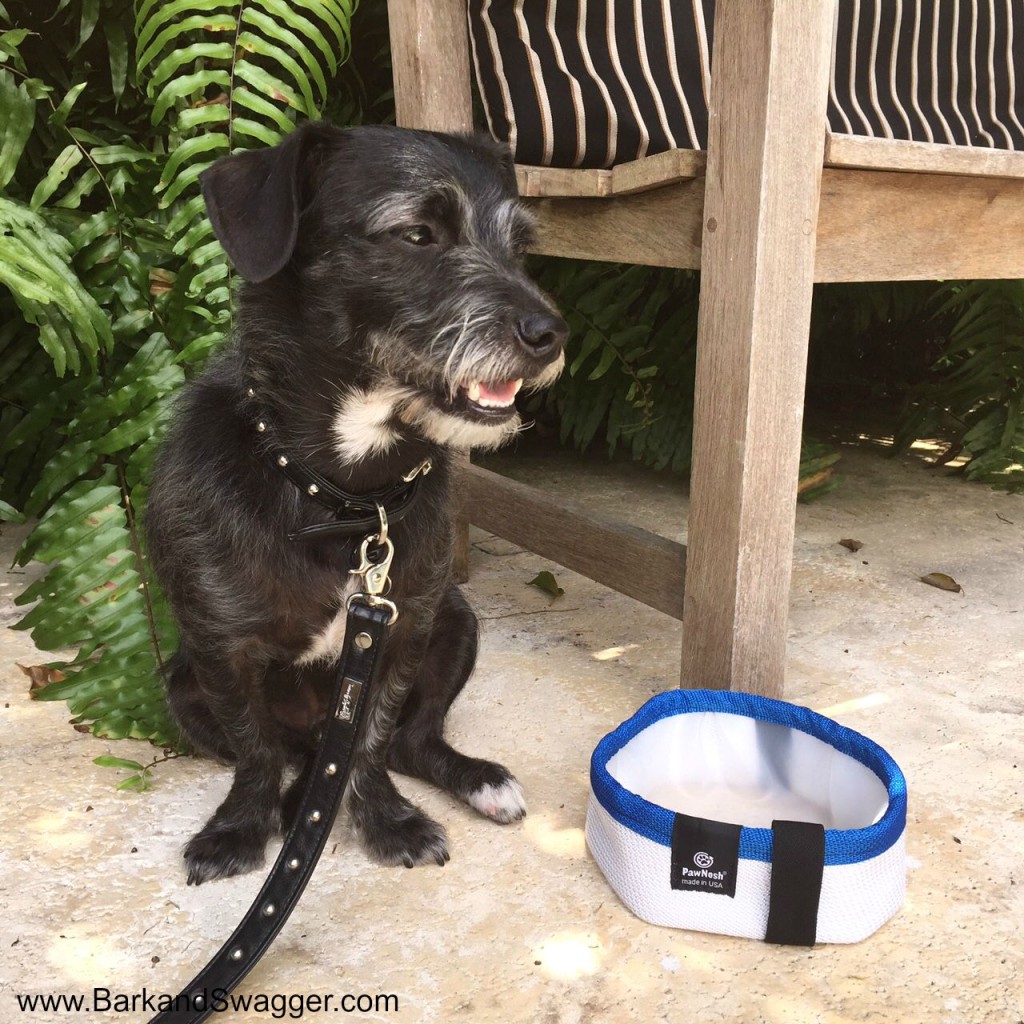 Do you love being an early adopter? It's great finding something unusual and stylish that no one knows about yet, and I'm so excited to bring you that something today!  This is a brand new traveling with your pup product, and I love it. It's made by my go-to brand, PawNosh, maker of the gorgeous recycled glass Cubby Bowl (we have four of them…Sophie and Jasper had to have matching food and water bowls, of course :-)). But, these new dog travel bowls are ingenious! You can win one; details for the giveaway at the end of this post.
So what's so special about the Fire Hose Bowl? First, it's made from reclaimed fire hoses. Yes, fire hoses! PawNosh loves recycling and reclaiming. They partnered with a local California company, Oxgut® Hose Co., to design a handmade, collapsible travel bowl that would make use of this storied and very sturdy material. I asked PawNosh co-founder, Sachi Ushihara, what inspired them to use fire hose:
"The PawNosh Fire Hose Bowl was inspired by our desire to bring a safe and sustainable option to pet owners for their travel needs. Fire hose is regularly safety tested and retired after a number of years, with no formal process for reclamation. The vast majority of it meets an untimely demise in landfill. By upcycling fire hose and marrying it with food-grade, non-toxic silicone, we bring a novel, functional and beautiful accessory to all pets and pet owners on the go."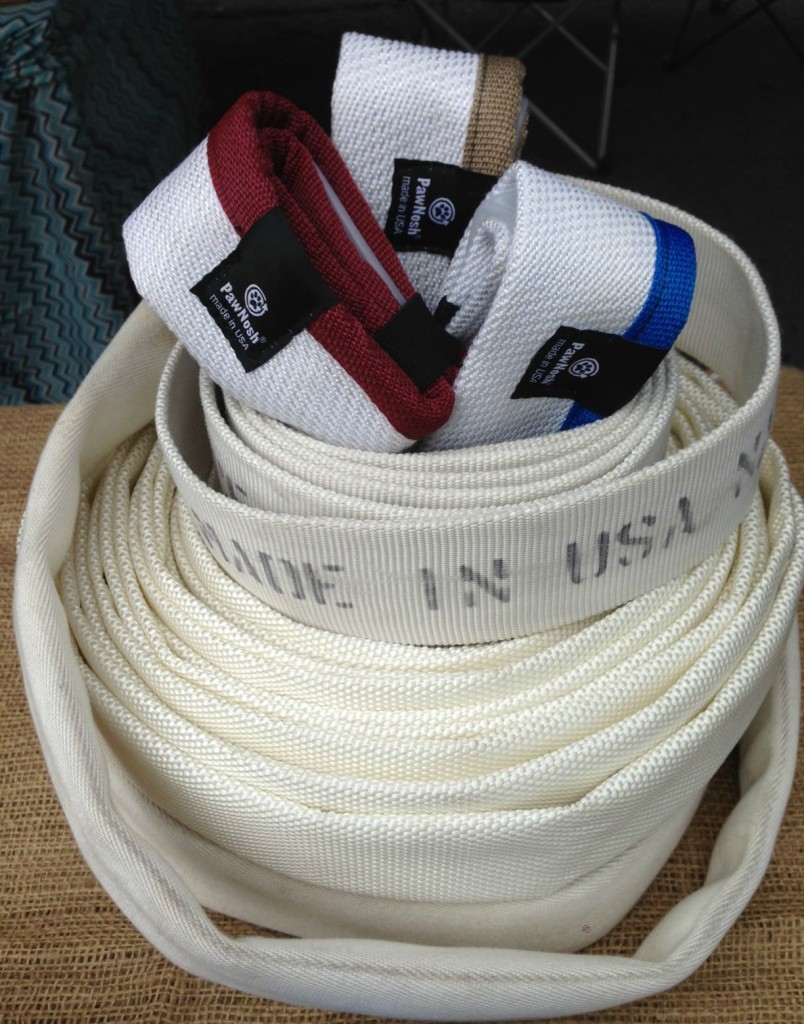 Isn't that an awesome idea? Yes! And, even better, the bowls are handsome…very stylish! Clean lines, crisp in white with a pop of color trim in either khaki, cabernet or royal blue, they are lightweight, easy to fold and can go on the top rack of our dishwasher. And, every component of the bowl is sourced in the USA.
The Fire Hose Bowl is just coming on the market tomorrow, July 27.  Our friends at PawNosh chose Bark & Swagger to be the first blog to give one away!
And, for those who love the safeness and great look of their recycled glass Cubby Bowl, in awesome colors, head over to buy before their prices go up! As of August 1, there will be an increase of $5 on both the Cubby and Cubby Deluxe bowls. Plug in the promo code 15SWAGGER5 at checkout for a 5% discount.  Shop PawNosh. Here's Sophie with one of her tangerine-colored bowls. You can see my review of the Cubby bowl, for additional info.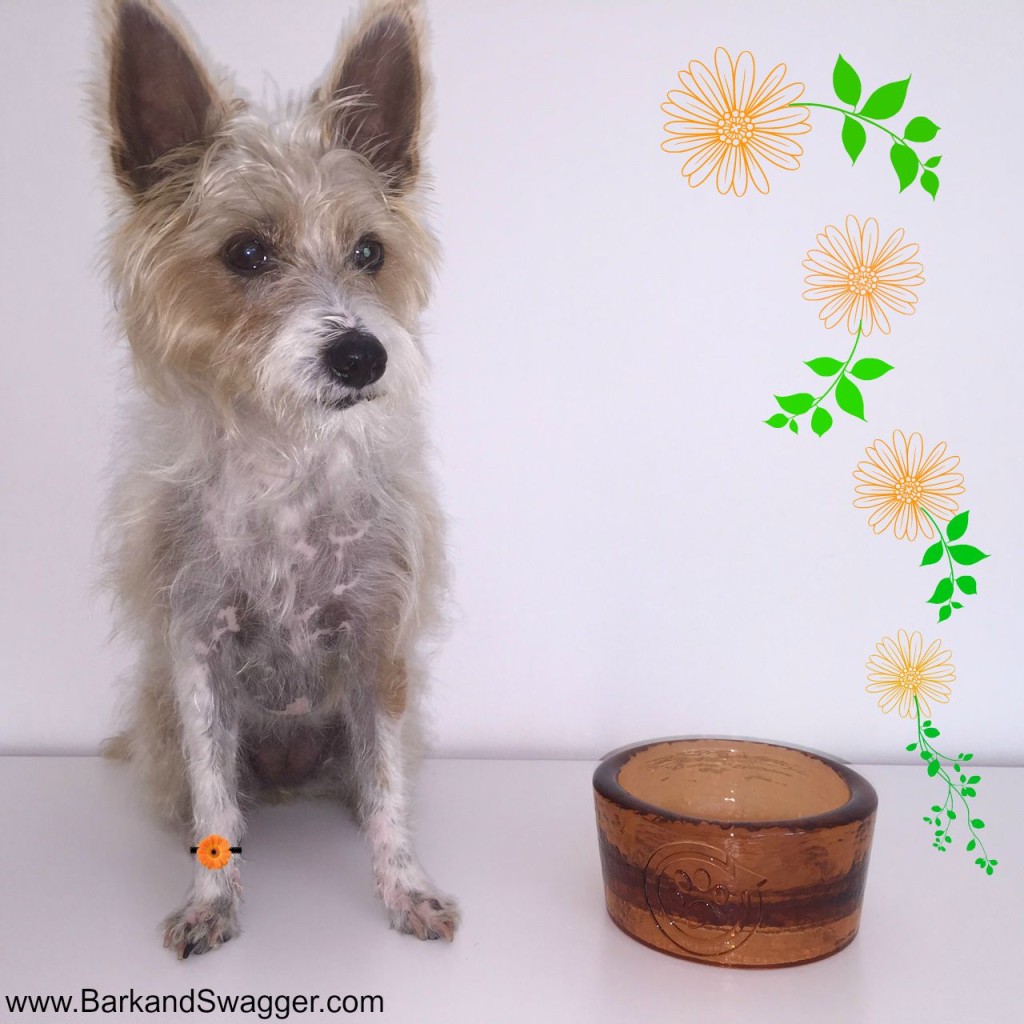 The Giveaway
One Bark & Swagger follower will win a Fire Hose Travel Bowl. It's easy to enter; just join the Bark & Swagger Family, by joining our email list. If you already are a member, you're in! There are extra things you can do to earn additional points. The giveaway will run from Sunday, July 26th at 9pm EST through Sunday, August 2nd at 11:59pm EST. You must be 18 or older and reside in the U.S. to participate.
Good luck!
You can friend PawNosh on Facebook
You can follow them on Twitter.
Where would you take your new Fire Hose travel bowl? Tell us!