Affiliate Links
Please, don't make me! Think about summer coming to an end already, that is. But it is, and whether you have human or fur babies, it's thoughts of going back to school and stylish fall wardrobes (let's face it, friends, it's the one thing I love about fall). And, while I'm not wearing fall clothes too much living in South Florida, I still love exploring the fashions and writing about them. Some habits die hard. 🙂
So today, we're gearing up for fall with great back to school fashion tips we can feel good about, because they won't break the bank and because our little pooches will look so splendid in them!
Fashion
My big tip for fashion-loving pet parents is a great sample sale going on right now on Bitch New York. For those who've been following me for awhile, you know BNY is a go to fashionable site I love. Owner Stacy Braverman seeks out the most stylish pet fashion from around the world, and I've discovered so many wonderful designers there, who I've gone on to interview. Here are some of my favorite pieces from her sample sale. Because it is a sample sale, it is often just one piece offered. But, if you're lucky enough to snag something you love, not everyone will have it, either.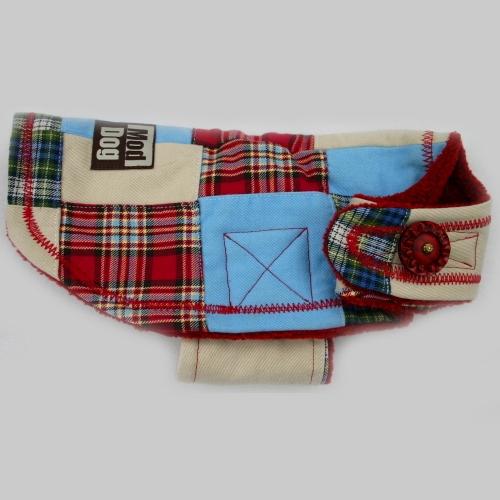 This is such a great piece; I wish there were more! The patchwork design features a great red and blue tartan with complimenting solid color patches. It's lined in a soft red micro-fleece for those days when the weather is becoming chilly. Red zigzag stitching and a chunky vintage red button at the neck finish off this cool and practical coat. Coat measures 9.5 inches along the back, 12 inches around the girth, and 8 1/2 inches around the neck. If this will fit your dog, I'd grab it!
Price: $40.00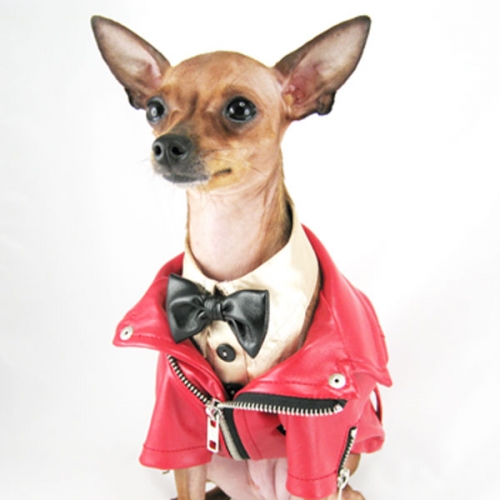 This is the only one of its kind and it is perfect as a statement fall piece for boys or girls. Love! This adorable, very chic biker has chunky zippers and snap detailing. The sample is in a size Medium, recommended for Yorkies, Pomeranians and Maltese. The jackets measures 14.2" chest, 8.3" length, 9.4" neck.
Price: $40.00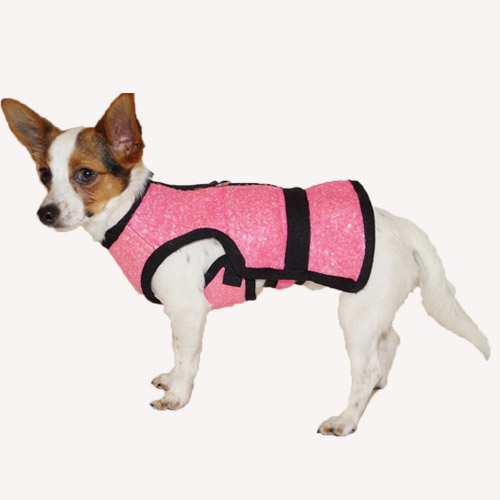 OK, if you happen to have a little girl who likes to make an entrance, this coat is for her! I would buy it for Sophie in an instant, if we were still living in New York City. I love the shade of pink. I love the sequined outside with spacer fabric inside; very smart of Pawberry, who makes this coat. Spacer fabric wicks moisture and keeps the dog warm and cool, depending on what's needed. And, I love the overall simple lines, almost minimalist in design. There's only one. It's a Small and measures 9-11″ neck, 14-18″ chest, 12″ coat length…my Sophie's size. 🙂 Grab it!
Price: $45.00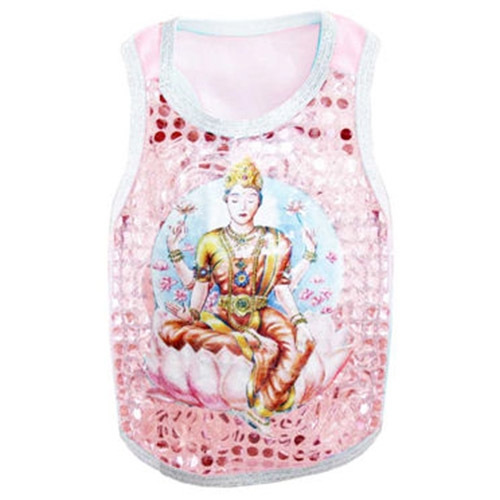 This is a beautiful tank as a transitional piece for now and through September, maybe longer, depending on the weather/where you live. I absolutely love the artwork of the Hindu goddess, Shiva, which represents the most essential goodness. The sequins surrounding her and the metallic silver trim gives this tank an almost otherworldly look. Love love. There's only one. It's a small. Measures 9″ length, 15″ chest (this measurement is the actual top size, not the dog's chest size).
Price: $30.00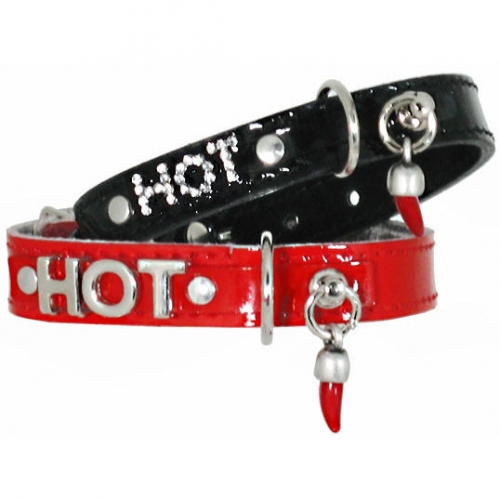 This patent leather, very chic collar came all the way from Paris. In bright red, with the word HOT in bold, shiny silver, and a cute red pepper dangle, this is a stand out. One of its kind, measuring from end to end at 10″; and at 1/2″ wide.
Price: $30.00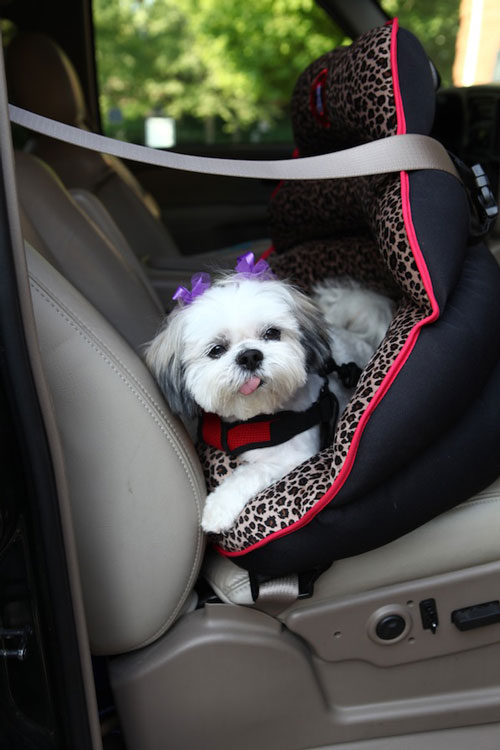 If you're driving your fur kid to and from play school, the dog park or a day of chores, car safety is the most important thing. There's only one I've found (and we've tried many) that I love. Why? Because it's the only one officially crash tested by the same company that crash tests infant car seats. It's called the Pupsaver, and it operates on a unique system, triggered when you slam on the brakes, like air bags do. It's rear-facing for extra safety and your dog is attached to it, rather than to the car seat. When it is activated, it literally folds over your pup, like a baseball glove, protecting them from flying glass, debris and the impact itself. It was tested to protect at up to 30 mph and can carry a dog up to 25 lbs. And, it's so darn cute in all its fabrics and colors, you might just want more than one (we have two) :-).
Price: $129.95
Summary
Sample sale shopping is something I love doing, because I've found some of the best pieces ever. I love that there aren't many of them out there. I just found a great Alexander McQueen black patent leather bag recently and paid a fraction for it! So, if you see something you love, jump on it because these items can go at any time. Browse the other items included in the sample sale from any of the links above.
And if you don't have a car seat that is proven to protect, please look into the Pupsaver. I can't recommend it any more highly. We love ours and I feel safe knowing my pups are safe.
Have fun and happy shopping!
Do you buy new clothes for your dog each season? What are you looking for for fall?